STUDIO A
Our Fort Lauderdale Location is a 2500sqft state of the art Photography, Film and Video Production Smart Studio. The entire studio is a hands-free facility and controlled by voice activation such as music, production lights and light switches. The Studio comes equipped with standing film production sets, hair/make-up station dressing room, and props. The studio is equipped with rolling doors for vehicle access if you would like to incorporate a motor vehicle into your production or if you just need to unload gear. We cater to photo shoots, music video productions, product shoots, promo videos, short and full-feature films. The production studio rental packages also offer a large 12ft high green screen for visual FX (VFX) work. Ask about our programmable RGBW intelligent lighting packages and/or production equipment rentals.
Cyc Wall: $125 per hour | 2hr Min
Repaint Fee $250 | Get the Cyc Wall painted any color for $500
PRIVATE JET SET | FLIGHT SIMULATOR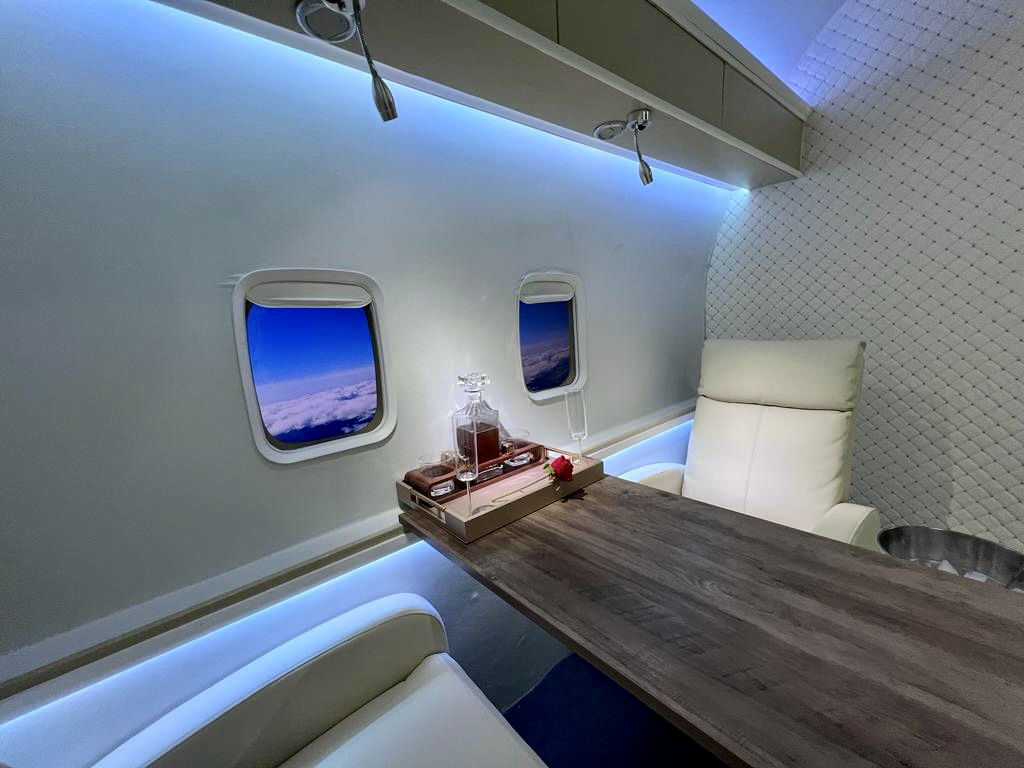 This private jet set comes with a view of realistic moving clouds to simulate the jet is in flight. Includes all props displayed in photos.The jet comes with RGBW LED lights that can be changed to any color per the guest's request. Perfect for podcasts, photo shoots, social media content creators, film production scenes and music video productions.
STUDIO A: STAGE LIGHTING AND MUSIC VIDEO LIGHTING
We offer programmable LED tubes and moving Gobo Light heads that will transform your set into a real work of art. At Global Filmz Studio we take care of stage lighting as well as Music Video Lighting arrangement. Our video rental location comes fully-equipped with everything and more to make sure your project is a true success. Book one of our music video sets and add value to your film production. We have cutting-edge stage and music video equipment in place.
Add color to your production with programmable intelligent moving light heads & RGB LED pars.
$300 half day/$600 full day includes Lighting Technician/Programmer
INTELLIGENT PROGRAMMABLE LIGHTING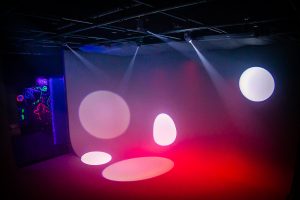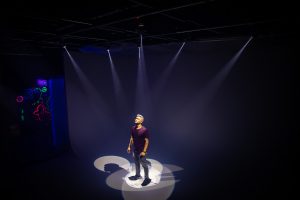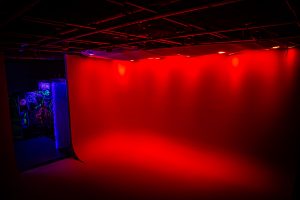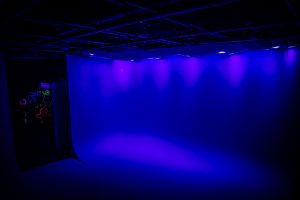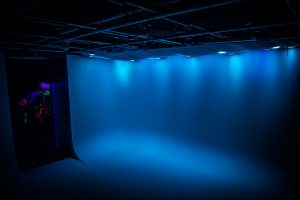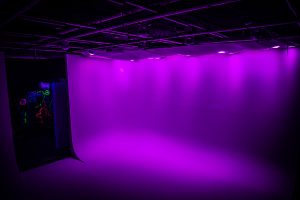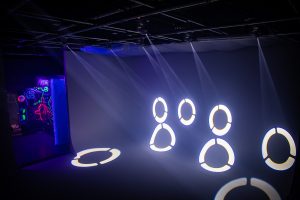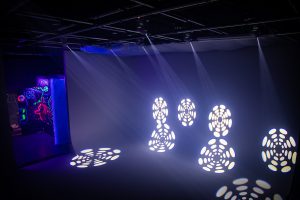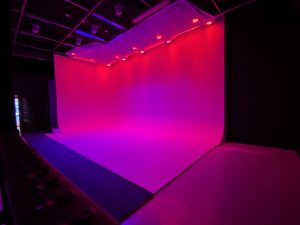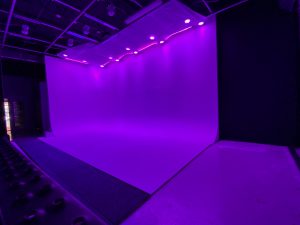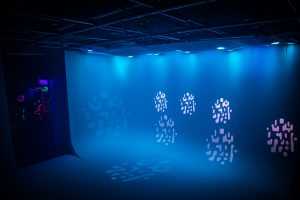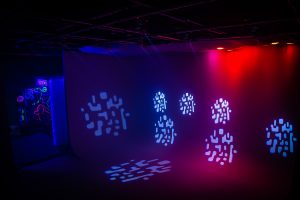 BLACK LIGHT GRAFFITI WALLS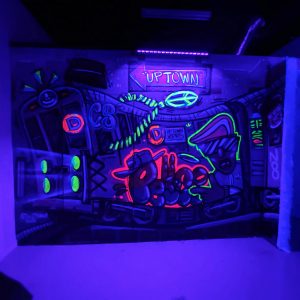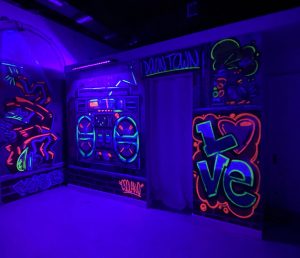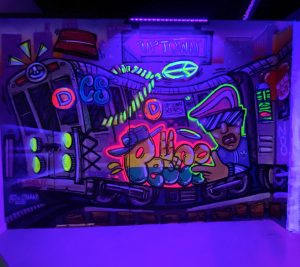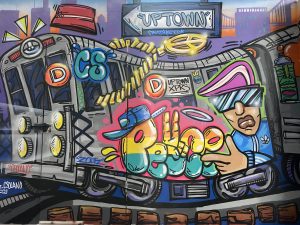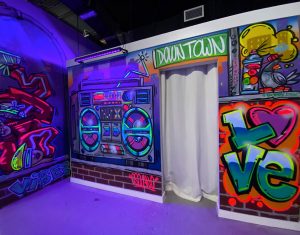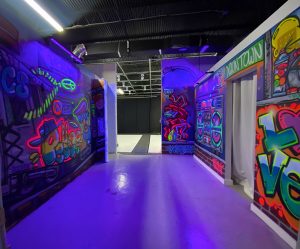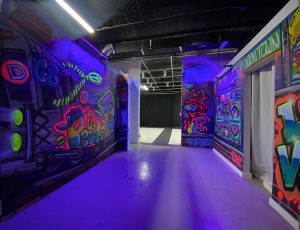 Photography & Video Production Studio Fort Lauderdale
Production Studio Pricing
$125 per hr / 2hr Minimum
Half/Full Day Rates Available.
FILM SETS
If a set is not currently setup a
$250 setup fee may be applied.
CYC WALL:
REPAINTING/CLEAN UP FEE: $250
PAINT WALL ANY COLOR $500
RAIN SIMULATOR: SETUP $250
PRODUCTION LIGHTING.
RENTAL PACKAGES
$75 PER HOUR. (GAFFER INCLUDED).
INTELLIGENT PROGRAMMABLE CYC WALL LIGHTING
$75 PER HOUR. (LIGHTING TECH INCLUDED).
CAMERA RENTAL PACKAGES
8K RED HELIUM DSMC2 $75 PER HR
4.5K RED RAVEN DSMC2 $75 PER HR
GRIP EQUIPMENT RENTAL & KEY GRIP $75 PER HR.
Are you an independent creator or musical artist with the desire to take your projects to the next level – without making a large personal investment up front? Renting an affordable and accessible production studio space with in-house equipment may be just the thing you need.
Welcome to Global Filmz Studios, your go to spot for production in Fort Lauderdale – we are a premier production rental facility and studio. Renting our video production studio space will not only give you the ideal location to work in, but it'll also give you the access you need. Access to what, you ask?
Our production facility is based in downtown Fort Lauderdale, FL that is minutes away from the following areas:
SOUTH FLORIDA: PALM COUNTY:  PALM BEACH GARDENS, WEST PALM BEACH, WELLINGTON, BOYNTON BEACH, DELRAY BEACH & BOCA RATON. BROWARD COUNTY: DEERFIELD BEACH, POMPANO BEACH, FORT LAUDERDALE, HOLLYWOOD, WESTON & HALLANDALE BEACH. DADE COUNTY: MIAMI GARDENS, NORTH MIAMI BEACH, AVENTURA, KEY BISCAYNE, KENDALL, DORAL & SOUTH BEACH MIAMI.
CENTRAL FLORIDA: ORANGE COUNTY: ORLANDO, KISSIMMEE & WINTER PARK. POLK COUNTY: LAKELAND, HAINES CITY & WINTER PARK. HILLSBOROUGH COUNTY: TAMPA, ST PETERSBURG, BRANDON & CLEARWATER.
SOUTH WEST FLORIDA: SARASOTA COUNTY: SARASOTA & SIESTA KEY. CHARLOTTE COUNTY: PORT CHARLOTTE & PUNTA GORDA LEE COUNTY: NORTH FORT MYERS, CAPE CORAL, FORT MYERS BEACH & BONITA SPRINGS  COLLIER COUNTY: NAPLES, FL.
17 minutes from Oakland Park, Fl. via i-95-North
20 minutes from Pompano Beach, Fl. via i-95-North
25 minutes from Deerfield Beach, Fl. via i-95-North
40 minutes from Boca Raton, Fl. via i-95-North
45 minutes from Delray Beach, Fl. via i-95-North
25 minutes from North Miami, Aventura, Fl. via i-95-South
30 minutes from Miami, Fl. via i-95-South
45 minutes from Miami Beach, Fl. via i-95-South
55 minutes from West Palm Beach, Fl. via i-95-North